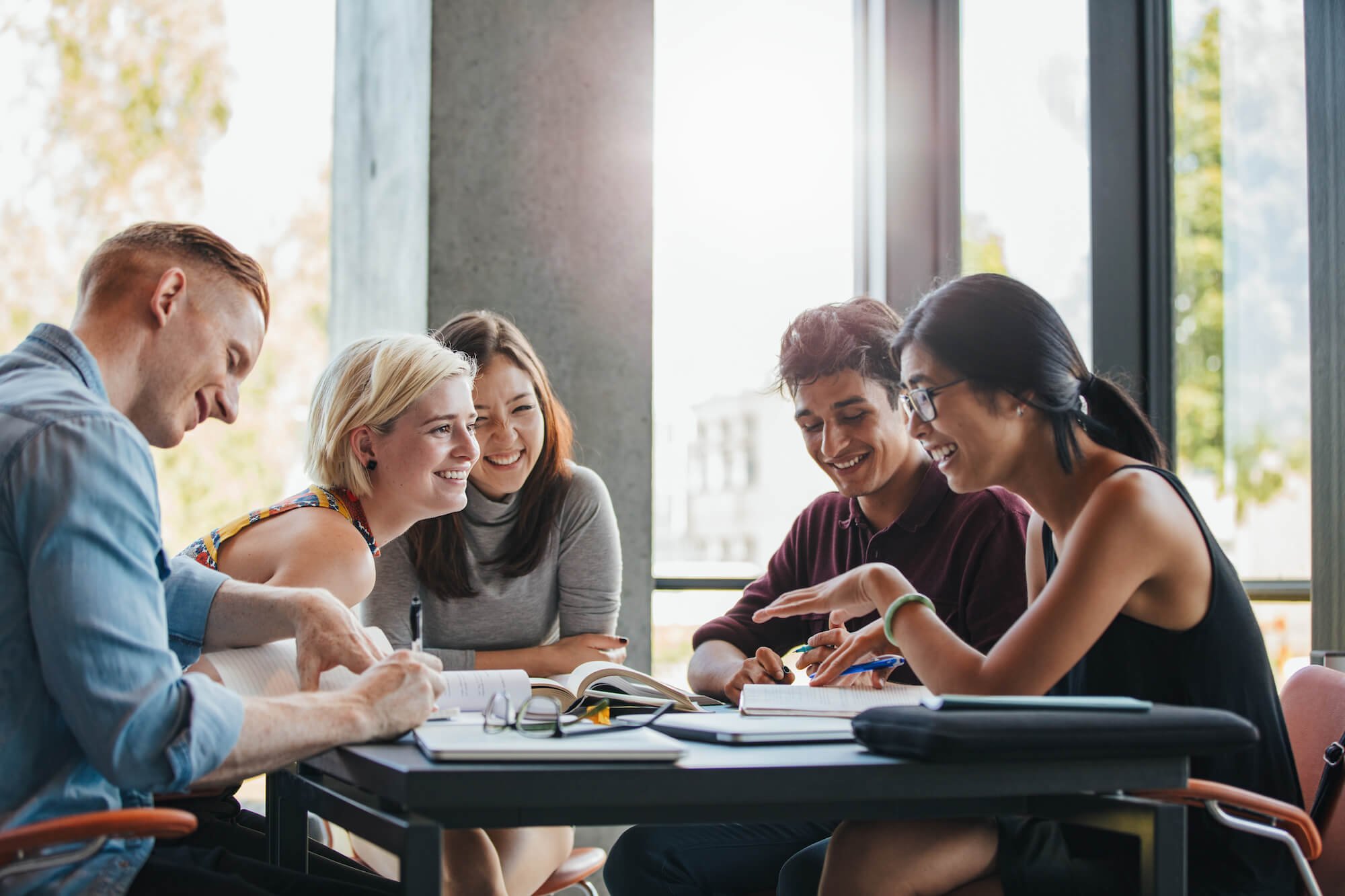 Build a future where all students fulfill their career dreams
Help us pave a new path forward
Talent is everywhere. Opportunity is not.
Our mission at Handshake is to give people the chance to build the career they want, no matter where they're from or what school they attend.
That means we take an unconditional approach to fulfilling the dreams of students everywhere. Inside and out, Handshake is the place where anyone can start, restart, or jump start their career.
No connections, experience, or luck required.
We're motivated to shake things up
When you bring a focused, driven, and diverse group of professionals to the table, great things happen.
See if our values align with yours:
Our mission is to democratize access to opportunity and ensure any student can build a great career no matter who they know, where they live, or what school they attend. We empathize deeply with our students to increase career opportunities for all.

We stay humble and work hard to democratize opportunity for all students. We like to have fun—and we do—but we're always focused on how we can best make an impact.

We believe speed wins, and our operational pace is incredibly fast. Moving quickly while staying aligned requires strategic thought, collaboration, and frequent communication.

We embrace a growth mindset, enabling our team to face obstacles with a tenacious desire to turn challenges into opportunities for growth. We are relentlessly curious, working to close the gap between what we currently know and what we need to know to be as effective as possible.

We listen closely to understand our users and clients, approach challenges with curiosity, and treat our colleagues and clients with compassion.

We are building an inclusive and diverse community—both on the Handshake platform and across our team. We believe diverse teams create more thoughtful and innovative solutions and that diverse companies are more successful.
Bao Tran (he/him)

Senior iOS Engineer

"Coming out of college, I was lost and unsure of what to do with my career. I really struggled to figure out what options were available to me and where to find them. It means a lot to me that we build tools to help students avoid some of the troubles I went through and help them build towards their dream career!"

Alejandra Alvarez (she/her)

Customer Success Manager

"People wake up and are excited to make a difference in the lives of students. There is a vibrant energy and it's clear that people are committed to making Handshake the best place for students to discover and apply for jobs."
Creating access to opportunity starts from within
We believe our team should represent the students and career seekers we work to support. We strive to create an inclusive environment, where people feel they belong and can do their best work. Our goal is to develop a culture that rewards people equitably and creates opportunity for people to grow their career and impact.

This commitment allows us the greatest opportunity to make a monumental difference in the lives of those we've made a vow to help.
Celebrating the parts that make us whole
Employee Resource Groups (ERGs) are a thriving component of our culture. Our identities run deep and we believe that celebrating shared experiences plays an important part in one's sense of belonging. You can check out our existing ERGs below.
La Familia

La Familia is a community for our employees who identify as Latina, Latino, or Latinx to connect and share their experiences.

LGBTQ+

A Community to share your Pride and be your authentic self.

Wakanda

For us, By us - a Community for people that relate to the African Diaspora.

Parents

A place for our Parent Community to chat, laugh, cry, and otherwise communicate.

MIND

MIND (Mental Inclusivity and Neurodiversity) is for Handshakers who are neurodiverse, experience mental health conditions, or have loved ones who do.

HAPISA

Vibrant Community for Handshakers who identify as Asian, Pacific Islander, or South Asian.

Shalom

A community for Jewish Handshake employees and those who identify strongly with the Jewish experience.

Immigrants

A safe space for folks who identify with a place outside of the US and for those wanting to learn more about that experience.

People of Color

A Community for all people of color to connect, share traditions, and support one another.

Women at Handshake

Open to employees who identify as women: focused on company-wide women's initiatives, as well as supporting and uplifting one another.
We are Handshakers and movers
Design

We take a student-first approach to how we design and believe that products and experiences are made great by the combination of how they work and how they look.

Engineering

We're growing our mission-driven Engineering team and looking for diverse perspectives and skills to help us build our best in class SaaS platform.

People

We collaborate with leaders to build high-performing, representative teams consistent with the Handshake culture and values.

Sales

We're a collection of diverse, dynamic, and collaborative individuals responsible for creating partnerships with top companies.
Marta Fonda (she/her)

Director, Engineering

"Handshake offers long-term growth potential, which isn't common in our industry. It's not just a place to gather skills and move on— we're gathering skills and getting to the next level. We want people to stay, feel like they belong, and reinvest in."

Tiffany Taylor (she/her)

Director, Education Customer Success

"We have the best community of people here at Handshake, plain & simple. We work hard, challenge each other, and play hard too! Everyone I have the honor of collaborating with is an expert at what they do, and that only means the best outcomes for our company and those we serve."
We'll give you the tools to feel healthy, happy and secure
You've got a lot on your mind, which can lead to less attention on your mental and financial health. We're here to help.
We offer 16 weeks of parental leave for birth-giving parents, and 10 weeks of parental leave for non-birthgiving parents, and flexibility for families. Our parental leave policy applies to adoptions as well. We also host family-friendly events throughout the year.

We provide you the flexibility to recharge. There's no accrued time off or waiting period to take vacation.

We also offer flexible holiday time-off, or "HTO", providing each Handshaker an opportunity to observe holidays that closely align with their religious, cultural, and personal needs by providing 2 paid-days off.

All of our medical plans cover transgender services, and the Anthem PPO 250 plan covers up to $2,000 of infertility treatment.

We provide the essential benefits that will protect you and your family from your loss of income due to unforeseen circumstances. You're automatically covered with basic life insurance for 1x your salary, as well as short-term and long-term disability coverage, at no cost to you. If desired, you can purchase additional life insurance for yourself and your family on top of the coverage you are already provided.

We host an annual wellness week, offer discounts on a variety of wellness apps, and provide an Employee Assistance Program through Guardian, which enables you to access 3 free counseling sessions.
Handshake has partnered with Fidelity to manage your 401k and offers a dollar-for-dollar match up to 1% of pay, with a max of $1200 per year.

We strive to foster a sense of ownership in our growth by offering equity to our employees.

We provide you with a professional financial planner via so that you can gain a better understanding of making the most of your compensation, equity, benefits, 401k and perks.

As part of our effort to ensure all employees have a strong sense of ownership within Handshake, full- time employees are eligible for equity refreshers after 2 years of tenure.

We offer several tax-advantaged benefits (HSA, FSA, and Dependent Care FSA) through Navia to help you save money on healthcare, dependent care, and other expenses by paying with pre-tax funds.
Employee Community leaders are compensated with quarterly $1500 bonus to acknowledge the high-impact work required as part of the role.

Comprehensive medical, dental, and vision coverage

We offer a $2,000 annual stipend for you to use towards your professional development. We also offer career development workshops, manager trainings, and 1:1 coaching through external partnerships throughout the year.

Beginning at 6 years of continuous, full-time employment, and every 4 years thereafter, Handshakers are eligible for a paid 6-week sabbatical to recharge and reset.

Employees are encouraged to take up to 2 days off for social and civil activism, volunteer work, and/or any related activities that they feel are appropriate. This includes attending and participating in protests.
We're investing in a new way of work
We've thought deeply about how work-life should look here at Handshake. With our Hub-Based Remote Working strategy, employees can enjoy the flexibility of remote work, whilst ensuring collaboration and team experiences in a shared space remains possible.
New York City
San Francisco